Welcome back to this blog series about Community Building on Social Media with Your Dog! It's so exciting to be able to share my knowledge and experience with you. My goal is to empower you to become a community builder… through your dog's social media account!
Think about how your dog's account has impacted your community on social media to this day. You probably get DMs asking for tips about things like training, photography, or grooming, and you've likely made a few great Instagram friends whose accounts you interact with all of the time. You may also have noticed that certain types of content really resonate with your followers and see a lot of engagement, which gives you an idea of what you and/or your dog are likely known for.
What if you could take it to the next level, build a community around your passion, and establish yourself as a community leader? Even if you don't know what your passion or niche is exactly, it's guaranteed that it has something to do with your dog because you're here reading this, so let's start with that. This blog series is about giving you the tools and inspiration you need to build your community while having fun doing it.
In the first part of the series, we talked about mobilizing your platform to give back to the community. Giving back to a cause is a wonderful way to rally your community, whether it's to raise money, awareness, or both. Today, various social media platforms offer multiple ways for you to do this, and I shared my strategies for fundraising on Instagram and Facebook that enabled me to raise $700 for Near and Far Animal Foundation.
In the second part of the series, I'm sharing my pro tips for building your community through virtual events, whether you're an individual looking to host a birthday or gotcha day party for your dog or a business looking to grow your brand in the pet industry. Since last year, many people have been connecting virtually on Zoom. I missed hosting in-person events, so I started throwing online dog parties! They're not your typical Zoom calls; rather, my virtual dog events are a fun opportunity for dog-obsessed people to come together to interact, chat about and show off their dogs, and even play games for prizes.
For my dog Cody's 3rd birthday, I wanted to bring together all of the friends that I've made through Cody's Instagram account all over the world for the last 3 years. So, naturally, I decided to throw Cody a virtual birthday party on Zoom! Cody and I were joined by 25 dog moms and dog dads and their pups for a fun evening; it was such a hit and I can't wait to do it again! It's a wonderful feeling to be able to bring together and celebrate your community, and you can do it too.
There are so many virtual event platforms, but since everyone is already familiar with Zoom, it's my online venue of choice. Anyone can host a Zoom event, you do not have to have a paid subscription. You can host an event for free for up to 40 minutes, and you can cheat the system by having a second Zoom link prepared in advance to carry over the event beyond the time limit. Just be sure to include this in your instructions for your guests and share the link again in the chat before time runs out.
Set a date and time with your audience in mind, think about their availability from the perspective of what they would be doing on a Thursday evening versus a Saturday afternoon. Send out invitations and promote your event several weeks in advance, do not leave it to the last minute. This is a great opportunity to start building an email list if you haven't already.
Plan your event's content based on whether your audience likes to interact and socialize or learn and observe. Your event can be in the style of a party with games and icebreakers, a presentation with Q&A, a guided activity with an end-goal, the possibilities are endless! I recommend making an outline of the event and breaking it down by allotted times for introductions, activities, information you want to share, prizes (if any), and closing. This will help you stay organized during the actual event.
When it's party time, use your outline to guide you while being aware that tech hiccups or unexpected discussions can happen. Be mindful of the time and don't hesitate to take control of the conversation if necessary, it's your event! The most important thing is to have fun, this is what your guests came for and will remember the most and look forward to at your next event. When the party's over, thank participants for attending with a follow up email. In it, you can share bonus content, news of what's coming up next, and even a brief poll or survey to get event feedback. Your first virtual event might have 5 people (mine did back in April 2020) or it might have 30, whatever the turn out is, give it your best effort and your guests will surely appreciate it!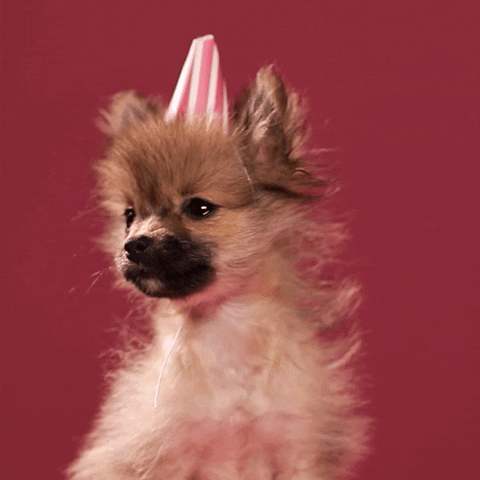 For National Dog Party Day (yes, it's a real holiday on June 21st), I'm hosting an Instagram Live via @goodb0ycody with fellow business owners in the pet industry to help you celebrate! We'll be sharing expert tips and tricks for planning and hosting your own dog party, whether it's in person or online, and ways that you can make it special with awesome ideas for baked treats and cakes, photo shoots, fun activities, and more! Mark your calendar for June 21st at 7pm EST to tune into Instagram Live, and if you really want to make sure that you don't miss it, you can sign up to get a friendly reminder here.
Next in the series, we'll be talking about building your community through engagement. Likes, comments, and shares aren't the only ways to interact with your community anymore. There are amazing opportunities to foster and deepen meaningful connections on a regular basis through an amazing social media app called Clubhouse. You may have heard of the app, if you're not on it already, and I can't wait to share my Clubhouse secrets with you next time!
Links in the article: